Whether wood cutting, milling, profiling and jointing technology, TRUPRO-TEC stands for pioneering solutions in Taiwan. We are committed to ongoing quality improvement and excellence in service delivery. In order to meet all clients' expectations and needs, we supply a comprehensive range of rip saw series, such as straight line rip saws, single- and multi- blade rip saws, thin cutting frame saw, etc.
Now, I'll have a simple TRUPRO-TEC's product introduction – about straight line rip saw.
RS-466
Straight Line Rip Saw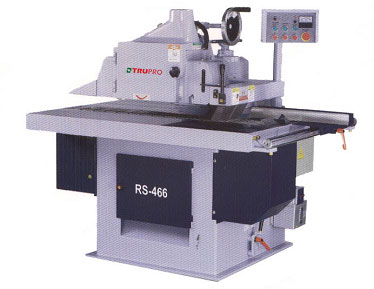 Rip Saw Features:
The extra-heavy fixed anti-kickback fingers eliminate the conventional problem of bumping between the fingers and chain, providing added safety.
Pressure rollers. Supported on both sides, hold stock stably and evenly.
The 150mm extra wide chain block provides a smooth feeding effect.
Variable feed speed permits the cutting of a variety of stock, hard or soft, thick or thin.
This improved design provides solid support when ripping large panels.
If you are interested in learning more information about RS-466 model straight line rip saw, visit TRUPRO-TEC's website to check out its details. Any questions you have concerning our products, please contact with us!
TRUPRO-TEC Industrial Co., Ltd.
No.90, Alley22, Lane 428, Sec. 1, Fong Yuan Blvd. Fong Yuan Dist. Taichung City, Taiwan, ROC
Tel: 886-4-25358299(Rep)
Fax: 886-4-25332009