Today, I'm going to have a simple introduction about one of CYCLEMATIC's toolroom lathes for you. That's CT-1118CNC model CNC toolroom lathe.
"Center Turning Also Gang Turning on New CT-1118CNC"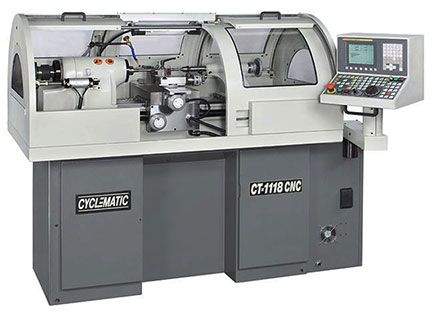 CT-1118CNC is the NC upgrade from CTL-618EVS manual toolroom lathe. It keeps the original machine's durability and elegant exterior while automating it with servos and CNC control.
With CT-1118CNC's 2008 redesign, Cyclematic goes even further, the ability to use tailstock and lathe center to perform shaft work is maintained, but more importantly an innovative tool plate design adds the capability to remove the compound tool post and swap in T-slot gang tool slide in its place.
The gang tool slide great work with a new complete line-up of tool holders from Cyclematic for gang tool turning. Either traditional lathe tooling setup or gang tool setup are easy to swap out and exchange for the other. Now CT-1118CNC is the ONE CNC toolroom lathe that can bring you TWO different styles of machining capability.
Features of CT-1118CNC Model CNC Toolroom Lathe:
Guaranteed Circular Accuracy to 50 millionths of an inch
Fanuc 0i Mate-TD Controller (standard), Optional with other brand.
Powerful 3 HP motor (5HP-Optional) with Yaskawa current vector inverter drive for improved torque response at low end.
Spindle mounted on high precision preloaded angular contact ball bearings
Precision ballscrew on X, Z-axes
Protection guard on Z-axis ballscrew
X, Z-axes feeds drven by AC Servo Motor
X, Z-axes ballscrews directly coupled to AC Servo Motor, minimizing backlash
Fast lever collect chucking
Power collet closer
Optional gang tooling option
Wide variety of accessories to increase versatility
Want to obtain further details about toolroom lathes? Please don't hesitate to check out Cyclematic's website right away. More information about CT-1118CNC are all can be found on their product pages and feel free to send inquiries or contact CYCLEMATIC directly.

No. 20, Lane 50, Ming Shen Rd., Shen Kang Dist., Taichung 429, Taiwan
TEL: 886-4-2562-5393, 2562-6509
FAX: 886-4-25620298
E-mail: cymatic@ms23.hinet.net